The Beef Baron Grillhouse Opens in Bethlehem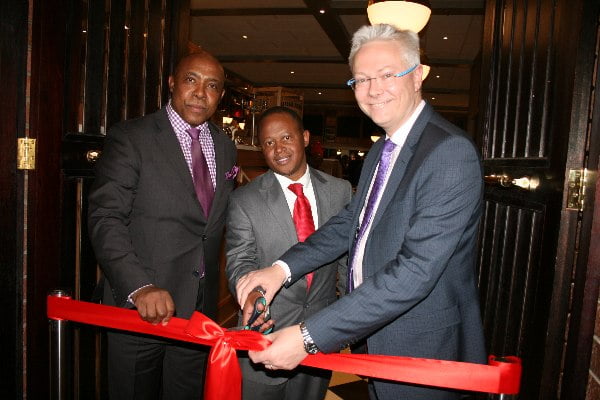 Monday, September 4, 2017
The Beef Baron Grillhouse is the place to "meat" in Bethlehem
Bringing a new and exciting dining option to Bethlehem foodies, The Beef Baron Grillhouse recently opened at the Frontier Inn and Casino. The new restaurant caters to meat lovers and also offers a range of other delicious dishes on the menu.
A delightful dining experience for couples, friends, families and large corporate groups alike, The Beef Baron Grill House boasts tastefully decorated dining areas and a private dining room, available for hire for business lunches, birthday parties, club dinners, and other celebrations.
"The Beef Baron Grill House not only adds value to the Frontier Inn's range of offerings, but also gives Bethlehem residents an exciting new hotspot to socialise and have a good time," says Sisulu Madondo, the resort's General Manager. "It's a relaxed and comfortable setting with warm and welcoming décor, where people can come and enjoy a hearty meal whilst enjoying a stunning view of the Maluti Mountains."
Head Chef, Tyrone Howard, manages the kitchen, where only the freshest and finest local produce are used to create his signature dishes, including locally-farmed cherries, apples, asparagus, and the best selection of cheeses the Free State has to offer.
While meat – expertly cut and grilled – is the hero on the menu, there are also plenty of fish, poultry, and vegetarian dishes to be enjoyed too. A children's menu is also available to keep little tummies happy, with crunchy chicken strips, calamari and fish sticks available, along with cheesy pizzas and yummy homemade burgers. Once they've had their fill of some of the best food in town, children can take their pick of three fun entertainment areas featuring jungle gyms, trampolines, jumping castles, climbing tunnels and a video game arcade, whilst mom and dad enjoy breath-taking views from the enclosed patio area – perfect for year-round sundowners or nightcaps. The Beef Baron Grill House is open from Mondays to Sundays for breakfast (07h00-10h30), lunch (10h30-17h00) and dinner (17h00-22h00).
Frontier Inn and Casino is a Peermont resort. For more information contact 058 307 6000 or visit www.frontierinn.co.za. Connect with us on Facebook.
Julie van Wyk(Peermont Public Relations Manager), Nigel Atherton (Group Chief Executive Officer of Peermont), Linton Bolters(The Beef Baron Restaurant Manager), Sisulu Madondo(General Manager of Frontier Inn and Casino) and Thabo Mokoena(Deputy Group Chief Executive Officer)