Supporting Tshepang Educare Centre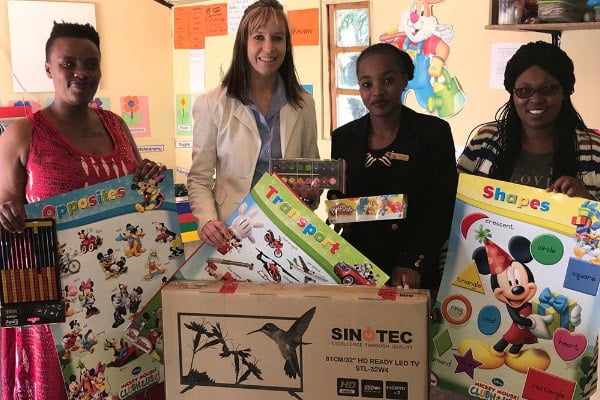 Monday, December 10, 2018
Tshepang Educare Centre was recently supported by Frontier Inn Dihlabeng Community Trust and assistance was provided in the following ways:
32 Inch Sinotec Television and DVD player for their visual activities, stationary to stimulate hand activities and to exercise their muscles.Frontier Dihlabeng Community Trust spend a total of R6 253 towards the Tshepang Educare Centre.
The Tshepang Educare Trust is an NGO based in Bethlehem, Free State that places the needs of the child at the centre of their activities. Their passion is to give children from disadvantaged communities access to high quality Early Childhood Development (ECD).
From Left : Vivian Mothijoa (Practitioner at Tshepang Educare Trust), Lizelle Karsten (Marketing Manager at Frontier Casino), Dimakatso Moloi (Marketing Guest Relation officer at Frontier Casino) and Limakatso Selisa (Practitioner at Tshepang Educare Trust)