Frontier Inn assists the Bophelong Day Care Centre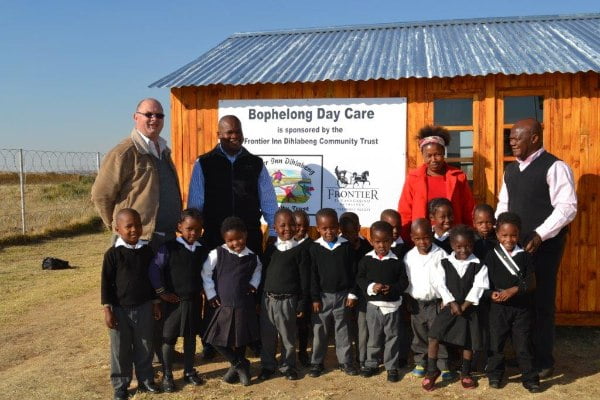 Sunday, July 12, 2015
The Utopia primary farm school was built in 1965 by the owners of the Utopia farm, so that the children of the farm workers could receive an education.
Currently they have 89 pupils in the school with a headmaster and six teachers to educate the children. There was a need for a classroom for the Pre-school Grade 0's and this is where the Frontier Inn Dihlabeng Trust assisted. A Wendy House was put up as well as all educational items needed to make this a complete classroom, with a total spend of almost R20 000.
The Utopia Farm School can now brag with their own Grade 0 class all thanks to Frontier Inn Dihlabeng Trust! Captured here with the happy Grade 0's are from left are Eddie Knoesen(Casino Admin Manager at Frontier Inn). John Sefatsa (Senior Technican at Frontier Inn), Alina Mokoena (the Grade 0 teacher at Utopia Farm School) and Mike Mofokeng (Principal).